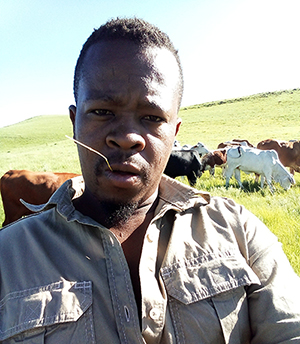 "Studying through Unisa opened international doors for me as I have not only spent 18 months in the USA but also a few months in Switzerland doing farming and connecting with influential people," says Mzwandile Duma, a livestock farmer who is determined to succeed in agriculture.
The 32-year-old completed his National Diploma of Agricultural Management in 2013, gaining, in the process, a wealth of knowledge about leadership, task management, cost control, risk and time management.
In 2016, Duma completed Unisa's N4 Certificate in Project Management (N4) to acquire more skills to assist him to thrive in his field. Duma believes that the education acquired through distance learning played a big role.
After completing his qualifications, Duma worked at the African Conservation Trust (ACT) as the regional manager in Underberg. He started as a general worker and was promoted to supervisor after gaining his tertiary qualifications.
"The kind of work ACT was involved in entailed teaching rural communities to produce their own food, focusing on vegetable production for their own use with a surplus to sell," says Duma. "ACT educates farmers on environmentally safe agriculture."
Currently Duma is running his own farming and consultation company, Panaroger (Pty) Ltd. "My passion and studies played a very big role to keep professionalism and standards," he says. "I started the company because I wanted to create job and internship opportunities for young farmers."
The business started operating in January 2018 after Duma resigned from the African Conservation Trust.
His contagious passion made a huge impact on the community. "I started as a consultant working for Future Farmers, whereby I had to place 80 graduates on different farms across South Africa and provide them with mentorship on life skills and farming in general," says Duma.
Duma contributed to the community for the past three years and he also did finance training and mentorship of commercial poultry farmers for a company called Franchising Plus, which has funding from the World Poultry Foundation.
During the year that Duma was in Florida, USA, he obtained an artificial insemination certificate. "I learnt so much from how things are done out there compared to how we do things here in South Africa, so I told myself that I will bring all the knowledge and skills to my fellow South Africans," he says.
Commenting on his current activities, Duma says that he is able to manage the budget and all the expenses of the farm that he is running. "In addition, I can do planning and prepare for potential risks. I am also able to make the right decision at the right time for my farming enterprise. I have gained a lot of respect from neighbouring farmers because of what I can do with my hands and brain."
Commenting on what makes Duma tick, Francois Du Toit, a colleague from the African Conservation Trust, has this to say: "Mzwandile Duma is a great young man, a natural leader who learns quickly and adapts despite challenges in rural communities. He remains a good friend and I am pleased to see his progress towards becoming a successful young farmer. He was never shy to seek advice and sought mentorship endeavours."
Annie Baptiste, training manager at Franchising Plus, says she met Duma during one of her business acumen workshops. "Duma stood out and after I spoke to him about his history and experience, I decided to use him as a mentor to follow up with the delegates after training. It is a pleasure to work with him as he added so much value to participants after the workshop with his extensive knowledge on farming and poultry. He amazed me with his ability to get on with the job and I will definitely use him for future mentorship programmes in the agricultural industry."
* By Lesego Ravhudzulo, Journalist, Department of Institutional Advancement
This article first appeared in YOUNISA, Issue 1, 2020.