"The alienating nature of the dominant curriculum in African schools and universities is an issue which simmered just below the surface in the 2015 student protests that swept throughout the South African higher education sector." This is but one of the critical issues contained in Africanising the curriculum: Indigenous perspectives and theories, launched on 11 April 2016 at Unisa.
The book is edited by Prof Vuyisile Msila, the head of the Institute for African Renaissance Studies (IARS), and Prof Mishack Gumbo, lecturer at the Department of Science and Technology Education. Speaking during the launch, Msila said the journey to write the book commenced in 2011, and it was restrained by various challenges. He said the idea to focus on Africanising the curriculum was a joint venture between him and Gumbo.
Msila said the book deals with complex matters and it offers insightful perspectives on Africanising the curriculum. He said although there is no universal meaning to certain concepts, including what it means to be an African, he, however, believes the book provides a theoretical basis for promoting the African ethos that must underpin the new curriculum. He added that the book also touches on emotive issues.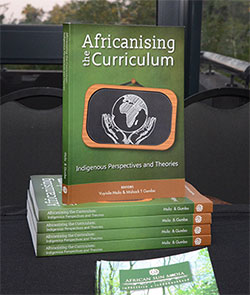 Gumbo said putting together the book was an enormous task, saying publishers are not interested in publication of books which are not prescribed. He said the project was time consuming. He added that the book infused indigenous knowledge systems into the new curriculum.
The transformation of university curriculums featured prominently amongst the demands raised by students in 2015 during the #FeesMustFall protest. The issue was once again a contentious issue early this year when students embarked on nationwide protest across all universities, demanding transformation. In some universities, this saw the removal of statues, which was later followed by calls that Afrikaans be dropped as medium of instruction.
Zandi Radebe, lecturer in the Department of Political Sciences, praised the book as a timely contribution. She said the book is a right step in a right direction as it provides a foundation for the decolonisation of the higher education sector.
Radebe believes the authors heeded the calls of students for decolonisation of both the curriculum and its content. She said she hoped the book would help to clarify the role of the university as social institution and to re-imagine a new university.
Dr Connie Haasbroek, lecturer at the Department of Psychology of Education, said the book couldn't have been published at a better time. She said to infuse indigenous knowledge systems into the curriculum is not an option but rather a question of method.
She added that her department is introducing new programmes at postgraduate level that will integrate indigenous knowledge systems. She said the book would provide a framework for this.
Msila said another book, which will focus on the practicality of the Africanisng the curriculum, is in the pipeline and will soon be published.
*By Percy Mthombeni
Save
Save