Leading change
More than 1578 qualifications were conferred during the autumn graduation ceremonies held in East London from 19 to 20 May 2017 at the Abbotsford Christian Centre.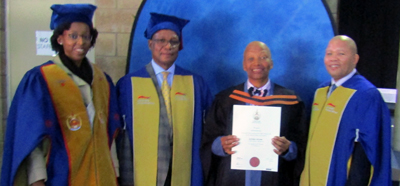 Amongst the recipients was 77-year-old Eastern Cape jazz legend Retsi Pule, who graduated with a National Diploma in Public Relations Management. Despite having encountered many challenges along the way, including financial constraints and a struggle to get placement for work integrated learning (WIL) with companies or government departments because of his age, he was not deterred from reaching his goal.
Pule also expressed his gratitude to the regional office for assisting him to compile his portfolio since he was unable to get placement, and he said if it were not for the support of the office he would not be graduating. He intends to pass on his artistic expertise to all aspiring, talented, and underdeveloped youth of the Eastern Cape.
The Eastern Cape Region proudly congratulates all the graduates and trusts that the skills acquired from their studies will enable them to fulfil their careers and assist in improving the economic situation of the region and the country.
*By Nontsikelelo Gasa
Lead graduation image source: anu.edu.au
Save
Save